Workshops
The Integrated Lomilomi®  Massage and Bodywork course is intended to teach an authentic, living technique drawn from Hawaiian sources with its connected underlying principles and spiritual understandings in a unified and complete form.  Affectionate, friendly acceptance is so characteristic of Hawaii that an approach in which everything can be done in a number of ways is a natural accompaniment to its ALOHA spirituality.
Thus the main aim of studying—alongside acquiring the techniques—is to achieve an understanding of  the underlying principles and the factors that motivate people in their choices and drives, in which the applied techniques are supporting aids. For this reason there are as many kinds of Lomilomi massage as there are families, clans and tribes practising this form of art on Hawaii.
Also each student approaches things in a slightly different way, and places emphasis on different elements. Thus, for us, as opposed to the Hawaiians who are born into a living Hawaiian Lomilomi tradition passed down within families from generation to generation, the best we can do is to learn exclusively from a variety of authoritative and genuine sources wherever possible!
Where do the taught Integrated Lomilomi®  course elements originate from?
The bulk of the 'temple style' Lomilomi techniques originate from Kahu Abraham Kawai'i, and reached me via Susan Pai'niu Floyd who teaches this massage as Lomilomi Nui. I also studied Lomilomi on Hawaii from Kumu Auntie Maile Napoleon, where living together with her family I learned the styles of both her family and her tribe. Auntie Maile's teachers were Kahu Lanikila Brandt and Kumu Kalua Pai'ea Kaiahua. The techniques I learned from her form a part of the training course. Finally, although I could never meet them personally, a great source of inspiration for me is Auntie Margaret Machado and Kahu Abraham Kawai'i. I was lucky altrough to learn Mana Lomi® from Maka'ala Yates, who's knowledge was strongly influenced by Auntie Margaret.
The  Integrated Lomilomi® course also contains the elemental Hawaiian massage known as Kahi Loa, which Serge Kahili King shared with the world. There will also be time to get acquainted with the fundamentals of Hawaiian hula dancing, and to learn a few hula dances, too!
What should you expect from the course? What is and is not included? What will you know by the end of the course?
By the end of the course you will be able to learn the whole-body massage (naturally, this does not include intimate body areas). In this, massage with oil and also muscular stress-relief massage—which originates from the Lua marshal arts—forms a part. You will be able to acquire sufficient knowledge to offer 1, 2 or 3 hour massages.
The lessons on the Kahi Loa 'elements massage' and hula dancing—there are three altogether—are also included. Temple-style Integrated Lomilomi bodywork is one form of Hawaiian massage through which, at one time, healing, or more precisely self-healing, took place in dedicated temples. To this day, the fundamental elements for all Lomilomi bodywork are the creation of an atmosphere of sanctuary around the treatment itself and of  the sanctity of the person being massaged, of their divine side, with recognition of their true nature and, at the forefront, the contrast between that and their personality.
Integrated Lomilomi effectively reduces stress and tension trapped by old patterns of behaviour, thus it not uncommonly signified as a 'rite of passage'—the point at which an individual enters a new part of their life. In ancient times such massages were accompanied by songs, prayers and rituals, which could at times last for several days.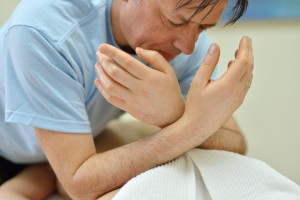 Before every significant life-period or major event—e.g., the ritual before becoming an adult or in the taking on of some important social function—the ancient Hawaiians would turn to an appropriate expert (Kahuna La'au Lapa'au or Lomilomi), so that with the help of the massage they would be freed of their fears, tensions and egocentric ways of looking at things. The result of a successful massage would be some fundamental change in the old character and of the usual situations in life, the replacement of the old patterns with consciously chosen new ones.
The treatment served to link the divine elements present in every person for whom fears, fixed habits and beliefs were an obstacle, and in addition to that, allowed access to the collected wisdom of our forebears, their genetic memory, when that was desired. A return to innate harmony, access to higher levels of information, and to finding a connection with one's own mind and spirit are all attainable goals in Integrated Lomilomi. Today Lomilomi massages are also well known outside Hawaii.
A number of luxury Wellness and SPA centres around the world consider Lomilomi massage, which ensures an ideal means to alter a rushed, self-destructive lifestyle, and to counter the overwhelming flow of information that pours onto us from all sides, or to treat burnout from work or depression as an indispensible part of their range of services.
Here it is important to note that the bodyworker needs to establish an appropriate atmosphere for self-healing for the person who is receiving the massage, since it is they who will appraise their old tendencies and orientations and decide on their healing through a combination of conscious, subconscious and supersensitive aspects at the same time. The Univesity of Life—often beyond all expectations—will more than deserve the change! Although western civilisation terms this kind of treatment 'Hawaiian massage' and often degrades it by offering it as a simplified commercial product, in reality it is much more a sacred art– the art of touch.
Only through persistent application, the healing of our bodies and constant training, the comprehension of our souls and the cooperation and support of our spirits can this level be reached. It is also important to sustain a connection with Hawaiian spiritual culture. This aim is served by the practice of hula dancing. The complete Integrated Lomilomi Massage course extends across 4 x 5-day blocks that amount to 160 hours.
On the basic course (1-2 level) the whole-body massage is learned, and also two hula dances. At the third level broader techniques are displayed. The lever 4 includes technicues for special cases. On completion of the course, participants will receive a certificate from the Witold Kucharczyk Polinesian Healing Arts Centre, with which they can offer a massage in the 'reviving massage' category.
No previous experience is required for an application to be submitted. The course is intended for those who would like to take their life into their own hands, who would like to help their family and friends and, last but not least, to begin an exciting occupation in a line of work that is really a joy to do!
Dates for courses in Budapest with english translation:
2023
Level 1: September 6-10
Level 2: October 11-15
Level 3: November 8-12
Level 4: December 6-10
Price: HUF 80.000/ level, paid at the gate
Accomodation available at the venue for HUF 7,000/ night
Budapest XIII. Pozsonyi ut.
Photo galery: click here